Reb-A is a good choice to sweeten food or beverage. When RA be used containing certain percentage of Reb-B, the food or beverage would provide a better taste, if the customer requires shorter on-set profile. Generally, purified Reb-B is applicable to many cases where sweetness and short on set profiles are desired.
We have powered Rebaudioside B, and granular Rebaudioside B, either it is conventional or organic.
| | | | |
| --- | --- | --- | --- |
| Spec of Reb-B | Sweetness | Usage | Package |
| RB 80% | 120 | Sweetener | 20kg/Ctn |
| RB 90% | 140 | Sweetener | 20kg/Ctn |
Package:
Double layer PP Bag inner pack. Out pack is paper square drum.
High strength, maximumly prevent the damage from forks in transportation.
Space saving in transportation and storage.
Moisture resistance
Durable finish
100% recyclable, Environmentally friendly
Background Information
Rebaudioside B, also known as stevioside A4, Rebaudioside B (RB) is one of the sweet components of stevia, which can be obtained from stevia leaf by aqueous extraction. The leaves of stevia may differ in quantity depending on several factors, such as climatic conditions, soil type, light, irrigation methods, systems of cultivation, processing and storage. Compared with other steviol glycosides, RB has a short on-set profile. Based on the characteristic, RB alone and mixtures containing RB have a potential to be a substitute of the present sweetener.
CAS: 58543-17-2
Formula: C38H60O18
Molecule Weight:804.87
Chemical Structure: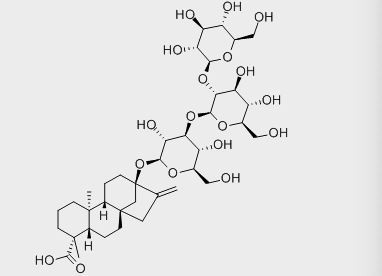 Hot Tags: organic rebaudioside B 80%, China, manufacturers, factory, price, Rebaudioside C 95%, Stevia Erythritol, Rebaudioside A 98%, Steviol Glycoside, Organic Stevia Erythritol, Stevioside 60%